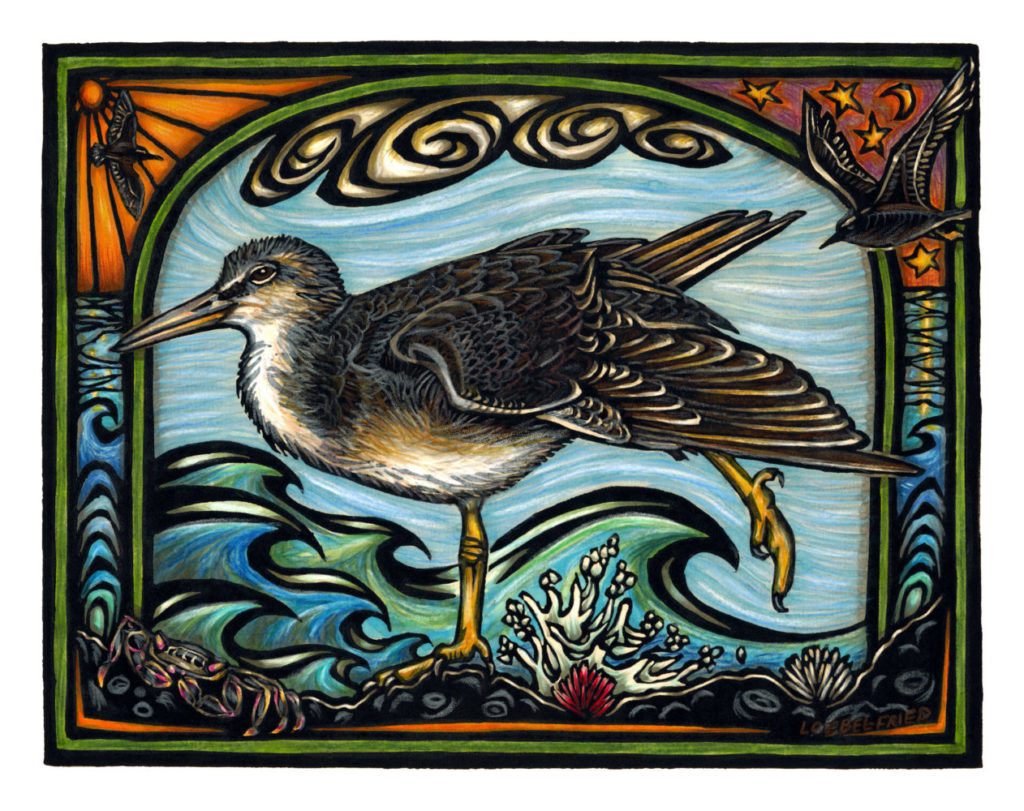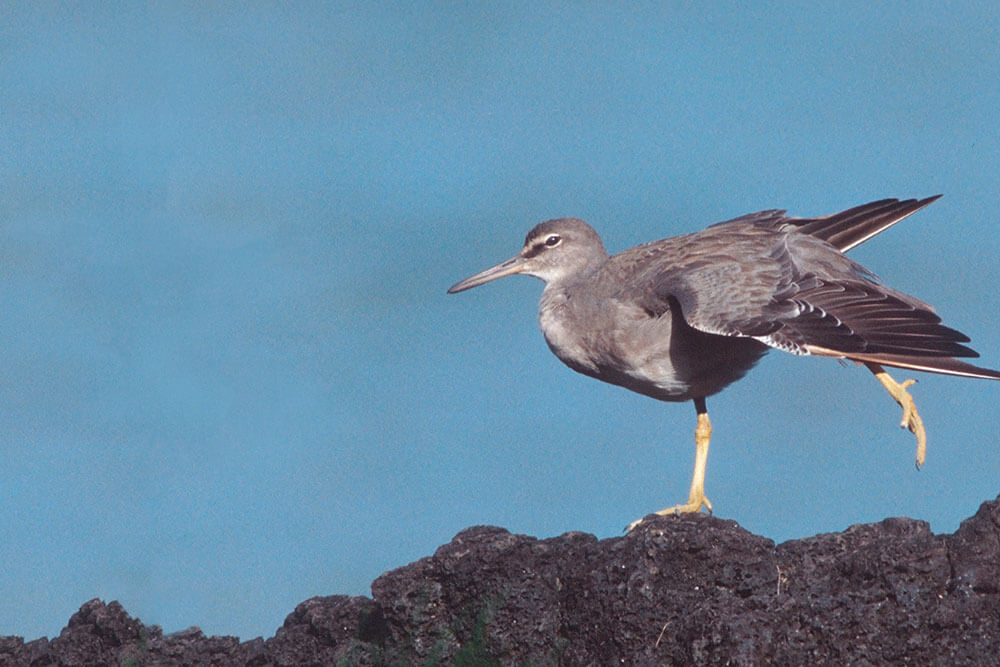 The striking Wandering Tattler, 'Ūlili, was created for the Hawai'i Island Festival of Birds by artist Caren Loebel-Fried, based on an amazing photograph by Jack Jeffrey. This 'Ūlili, in full breeding plumage, was captured at a moment when the bird was stretching its wing in a yoga-like pose.
You may have seen Caren's art and Jack's photo in our HIFB advertisements! You'll also be seeing it in some of our prizes and around our website. Mahalo Caren and Jack! 
'Ūlili are medium-sized shorebirds that "wander" extreme distances, and there is much still to learn about them. You can see them on shores and mudflats throughout the Hawaiian Islands, and on shorelines all around the Pacific basin. Their non-breeding plumage of soft grey on top, lighter colored below, and breeding plumage makes their neck, chest, and belly look like black and white zig-zag. They breed in Canada and Alaska from May through August, in tundras near rivers and ponds surrounded by small shrubs and grasses. Monogamous, a pair builds their nest with pebbles, twigs, and dry roots. Four eggs are laid, and the couple shares incubation for three weeks. Care of the chick is also shared until it fledges soon after hatching. 'Ūlili eat invertebrates and tiny fish, and their call is a distinct, fast ki ree ree repeated over and over again. Their frequent tail-bobbing on land, and yellow legs, make them easy to identify.
Caren learned the ancient art of block printing from her mother. She volunteers and researches on Midway Atoll, Kīlauea Point, and other wild places around the Hawaiian Islands. Caren creates art for many organizations, supporting the work they do on behalf of wildlife, conservation, and the perpetuation of Hawaiian Culture.
Bring This Charismatic ʻŪlili into Your Home!
Fine art prints of this artwork are available for purchase. 10% of proceeds support the Hawai'i Island Festival of Birds. A 10% off discount code is also available in our Virtual Marketplace.
BONUS: There will be two opportunities to win a museum-quality print! One winner will be selected at random from all festival registrants before the festival begins. In order to qualify, you must be registered for the virtual festival by October 10, 2020. The second winner will be selected at random at the end of the festival from everyone who participates in our presentation questions and care package giveaways. So it's definitely beneficial to register early and participate often once the festival starts!