Virtual Lesson: Hula and Storytelling from Mountain to the Sea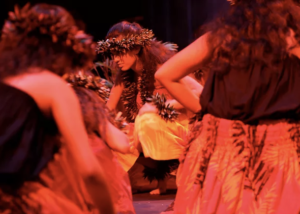 Storytelling is extremely important to Hawaiian culture as it is how information is passed down through generations. We present these stories to our children today with hope that there is an interest in genuine story-telling, through hula, based upon the folklore of their heritage, and preserving its ancient customs. Join Pūlama nā Liko and the students of its Hālau Hula (school of Hula) as they take you on a journey from ocean to mountain. They will share stories of nature's inhabitants, including the migratory Kōlea (Pacific Golden-Plover), in a haku mele (medley song). The dance they will teach you is a Hula noho (seated hula), so you will be able to follow along at your desk. 
The mission of Pūlama nā Liko is to perpetuate Hawaiian and Polynesian arts and traditions by promoting social, physical and intellectual wellness within our communities by cultural-based education, through which Hawaiian core values, the performing arts, and life skills enrichment programs are integrated. Learn more at www.pulamanaliko.org. Pūlama nā Liko is a 501(c)(3) nonprofit organization and donations help further their education programs. Donation information coming soon!
---
About the Presenter
---
Lani Isaacs, Kumu
Pūlama nā Liko and its Hālau Hula is led by Kumu Lani Isaacs.
Founder and director, Kumu Lani Isaacs, a lifelong dancer, teacher and choreographer opened the ʻAlohi Polynesian Dance Academy in Kamuela, HI in 2011. With the spirit of poʻokela, or excellence as her focus, quality and integrity is the basis of her work.
Since 1978, her professional careers ran hand-in-hand as a Cultural Resource Director, Certified Corporate Trainer and Concierge Manager in the Hospitality Industry, and a professional entertainer. Under the direction of Kumu Hula Ke'ala Kukona, Lani owes her success as a seasoned dancer to her formal training. Hands-on experiences, accumulated over many years, has awarded her a fluency that is essential to not only the hospitality industry, but to that of the performing arts as well. Over the years she has warranted a respect by companies and businesses that rely on her expertise. She has traveled extensively with the Hawai'i Visitor's Bureau and various airlines and resorts to promote Hawai'i destinations.
In the year 2000, Lani established Hālau Hula Nā Lehua E Liko No Ka Wailani, a prestigious and award-winning school of Hawaiian dance. The hālau's foundation is based on cultural learning and practice, grounded by the dedication and commitment of the haumāna (students) and Kumu (teacher), and the strong support of their 'ohana (family). Together the hālau utilizes hana no'eau and 'ōlelo Hawai'i to support and expand the practices of nā mea Hawai'i and has contributed numerous times to the community – supporting events and fundraisers, workshops and performances. With a compassionate heart and a firm hand, Kumu Lani continues to nurture her haumāna – striving to develop their skills and talents in order to provide them opportunities for their future. Her goal is to keep tradition alive by artistically presenting the stories of our ancestors on a stage setting where it rightfully belongs amongst other performing disciplines.