TIM APPLETON
Tim Appleton is the founder of the world famous British Birdfair. Appleton worked with Sir Peter Scott at The Wildfowl and Wetlands Trust in the United Kingdom throughout the 1950's on captive breeding—a crucial technique that saved the Nene.
More information coming soon.
NOAH GOMES
Keala Pono Archaeological Consulting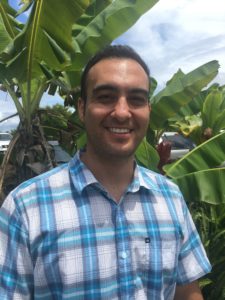 Noah Gomes is a former ranger for Hawaiʻi Volcanoes National Park, and currently works for Keala Pono under Kamehameha Schools. He completed his Master of Arts degree in 2015 from the University of Hawaiʻi at Hilo. The topic of his master's thesis was research on the traditional bird catching of native Hawaiians. He has since continued to publish articles on the subject of the classical relationship of native Hawaiians with our native birds, including research leading to the recovery and adoption of the name ʻalawī for Loxops mana.
DR. MICHELLE REYNOLDS
USGS, Research Wildlife Biologist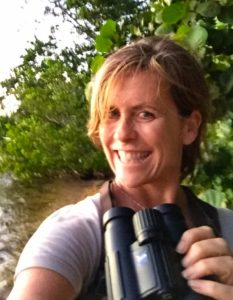 Michelle Reynolds began her career as a field biologist in Hawaii focusing on endangered species research and leading the Hawaii Rare Bird Search to find missing Hawaiian Forest Birds. Her team rediscovered the last remaining individuals of 2 critically endangered species, which are believed to be extinct today (Maui Nukupuu and Poouli), and described the distribution of Kauai's Puaiohi. Michelle then did her PhD on the Laysan teal, rarest duck in the Northern Hemisphere. Less than a year after finishing her doctorate she was invited by the USFWS to lead the team to attempt the translocation of wild birds to reintroduce the species to reduce its extinction risks. While working for USGS (Biology) she studied the species reintroduction biology, survival, reproduction, genetics, and habitat use for more than 10 years on Midway Atoll, and in 2014 led the translocation from Midway Atoll to Kure Atoll. Her recent research efforts have focused on sea level rise in the Hawaiian Archipelago, conservation of breeding seabirds on low lying islands, and using detector dogs for surveillance to help reduce endangered Koloa maoli (Hawaiian duck) mortality from avian botulism.
JACKIE GAUDIOSO-LEVITA, M.S.
Wildlife Biologist and Project Coordinator of the 'Alalā Project, Hawai'i Department of Land and Natural Resources, Hilo, Hawaii.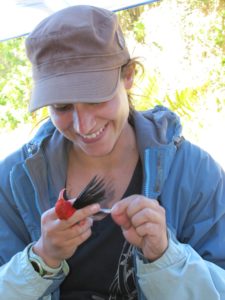 Jackie has over 13 years of this experience working for the conservation of native Hawaiian forest birds.  She earned a Bachelor's of Science degree in Biology from Providence College, Rhode Island (2004) and a Master's degree in Conservation Biology and Environmental Sciences (2009), from the University of Hawai'i at Hilo. Her past research and work experience spans the subjects of avian ecology and evolution, plumage coloration, avian breeding biology, translocation and monitoring, avian point count surveys, and introduced avian disease and ectoparasites. She also is well-experienced in logistics planning for remote field work on the island of Hawai'i. She currently oversees project coordination of the 'Alalā Reintroduction Project and facilitates the 'Alalā Working Group.
JACK JEFFREY
Hawaii Natural History Photographer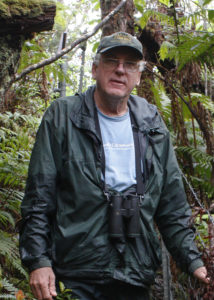 A longtime resident of Hawaii Island, photographer and a wildlife biologist Jack Jeffrey, is intimately familiar with Hawaii's hidden valleys and remote rainforests. He brings to his photographs the knowledge of over 40 years of observation and study of Hawaii's endemic birds. Combined with a naturalist's curiosity, a photographer's patience and technical skill, Jack captures the spirit of Hawaii's rare forest birds, plants and other natural treasures in his wonderful photographic images. Jack is recipient of the prestigious 2002 Ansel Adams Award for Nature Photography, 2006 The Nature Conservancy of Hawaii, Kako'o Aina Award for Conservation Photography, and is co-author of three books on Hawaii's birds. Jack's bird and natural history photographs have been featured in numerous worldwide publications.
DREW WEBER
Cornell Lab of Ornithology, Merlin Project Coordinator
Drew Weber leads the Merlin project at the Cornell Lab of Ornithology, working closely with Macaulay Library and eBird to develop bird identification tools across mobile and web apps, and to expand this to all birds. Drew enjoys helping people identify birds, whether it's their first bird or their life list is over 5,000. He has been birding since he was a kid and loves anything with birding and technology, and feels fortunate to combine these two things every day. He is excited to share the latest updates to Merlin, including the pack released for Hawaii's birds!
DR. CALI CRAMPTON
Kauai Forest Bird Recovery Project, Project Leader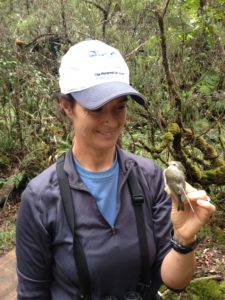 Dr. Crampton ("Cali") has been the Project Leader of the Kauai Forest Bird Recovery Project since April 2010, where she oversees research into the ecology and conservation of Kauai's endangered forest birds.  She obtained her Ph.D. in Ecology, Evolution and Conservation Biology on the ecology of Phainopepla from the University of Nevada at Reno in December 2004.