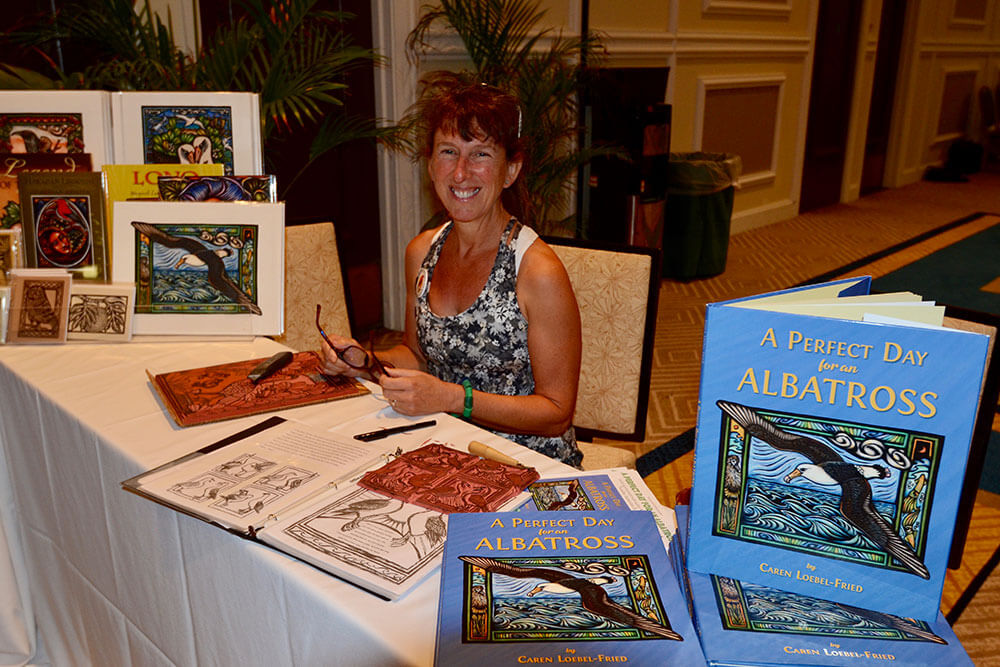 Bird Fair – Arts, Crafts, Booths, Gear, Speakers, Keiki Activities
September 15, 2018 @ 8:30 am

-

4:00 pm
Your general admission grants you access to our Bird Fair for a full day of celebrating Hawaiʻi's birds and learning about their habitats and conservation challenges. Connect with artists, conservation groups, resource managers, scientists and eco-tour companies.
Our theme, "Back from the Brink" will feature speaker and panel presentations throughout the day. There will also be Keiki (children) activities and exciting announcements, including the official release of the Hawaiian Islands Bird Pack for Merlin by the Cornell Lab of Ornithology.
Children 15 and younger are FREE with a paying adult. Included with each paid admission is a $5 Birdie Buck good towards your purchase at any Festival Booth! Parking is included and tickets will be validated.
There will be lunch available for purchase and also free water filling stations. Please bring a refillable water bottle and support our zero waste event!
SCHEDULE
8:40-8:45 Opening Remarks – Rob Pacheco
8:45-9:00 Jeff Gordon-President, American Birding Association ʻIʻiwi –  ABA's 2018 Bird of the Year
9:00-9:45 Michelle Reynolds Ph.D., Laysan Teal
10:00-10:30 Drew Weber-Cornell Lab of Ornithology Premiere of the Hawaii Species Pack for the Merlin Bird ID App
10:30-10:45 ʻAlalā Panel Introduction: Noah Gomes
10:45 – Noon   ʻAlalā Panel: Successes, Challenges and New Releases- Jackie Gaudioso-Levita M.S., Alison Greggor, Ph.D. and Donna Ball, Wildlife Biologist, USFWS
Noon -12:30 Break & field tryout of Merlin Bird App with Drew Weber on hotel grounds
12:30-2:00 Tim Appleton, Founder of the British Bird Fair and Steve Hess, USGS Biologist
Nēnē & British Bird Festival. Steve Hess: "Migration in Nēnē"
2:00-2:50 Kauai Forest Birds – Cali Crampton
3:00-4:00 Noah Gomes – Back from the Brink: "Reviving Nature Knowledge to Inform Modern Conservation"
SPEAKER BIOS
Jeff Gordon, President American Birding Association. There's very little about birds, birding and birders that Jeff doesn't find fascinating, though he's especially interested in birding culture and the many ways we all communicate our passion for birds.  When not birding, Jeff is an avid natural history fan, recreational cyclist, pop culture maven, photographer, musician, and cook.
Michelle Reynolds, Ph.D. wildlife biologist focusing on endangered species including the Palila, the ʻAlalā (Hawaiian Crow), and searches to find rare and missing Hawaiian forest birds.  Michelle studied the critically endangered Laysan duck on Laysan Island and was invited to lead the translocations of wild Laysan duck to restore the species to additional islands. While working as a researcher for USGS she studied the miraculous survival of Laysan ducks.
Drew Weber leads the Merlin project at the Cornell Lab of Ornithology, working closely with Macaulay Library and eBird to develop bird identification tools across mobile and web apps.  Drew enjoys helping people identify birds, whether it's their first bird or their life list is over 5,000. Birding since he was a kid, Drew combines his love of technology with his love of birds.
Jackie Gaudioso-Levita, M.S. Wildlife Biologist and Coordinator of The 'Alalā Project, Hawaiʻi Department of Land and Natural Resources, Division of Forestry and Wildlife, Hilo has 13 years experience with the conservation of native Hawaiian forest birds, currently overseeing the coordination of the 'Alalā Reintroduction Project and facilitating the 'Alalā Working Group.
Dr. Alison Greggor is a postdoctoral research associate with San Diego Zoo's Global Hawaiian Endangered Bird Conservation Program. With a background in animal learning and behavior, Alison's work focuses on supporting the conservation breeding and reintroduction efforts for 'Alalā and other Hawaiian species with science and evidence-based approaches.
Donna Ball has worked as a biologist for the U.S. Fish and Wildlife Service for 27 years. She worked as the Field Coordinator on the ʻAlalā recovery project in Kona from 1993-2000. Later, she became a Refuge Biologist at the Kona and Hakalau National Wildlife Refuges and is currently a Fish and Wildlife Service Biologist with the Pacific Islands Fish and Wildlife Service.
Timothy Appleton, MBE is the Founder and Manager of the British Bird Fair, the world's largest wildlife event.  As the Reserve Manager and Creator of Rutland Water Nature Reserve, he founded the reintroduction project of Ospreys into England and has been awarded for multiple contributions in conservation and birding, including The Christopher Cadbury Medal and an Honorary MS Degree by Leicester University for services to Nature Conservation.  Tim worked with Nēnē, Laysan Teal and Hawaiian duck at Slimbridge, UK.
Dr. Crampton ("Cali") has been the Project Leader of the Kauaʻi Forest Bird Recovery Project since April 2010, where she oversees research into the ecology and conservation of Kauaʻi's endangered forest birds.  She obtained her Ph.D. in Ecology, Evolution and Conservation Biology on the ecology of Phainopepla from the University of Nevada at Reno.
Noah Gomes, MA from the University of Hawaiʻi at Hilo, works at Kealapono at Kamehameha Schools and is a former ranger at HVNP.  Noah has published multiple articles on the subject of the classical relationship of native Hawaiians with our native birds including research leading to the recovery and adoption of the name ʻAlawī  for Loxops mana.
Steven Hess, Ph.D., is currently a research wildlife biologist with the US Geological Survey conducting research on both native and invasive species. He has a Bachelor's of Science degree in biology with a minor in Anthropology from Florida State University in 1987, and studied birds in New England and Central America. He studied tropical forest ecology in Panama and Belize and finished his Master's in Forestry from the University of Montana in 1995 after moving to Volcano in 1994 to study Palila on Mauna Kea. Steve went back to Montana to study the Yellowstone bison and received a Ph.D. in wildlife biology from Montana State University in 2002.
General Admission: $10; Children 15 and younger are FREE with a paying adult.
Location: Sheraton Kona Resort at Keauhou Bay Convention Center